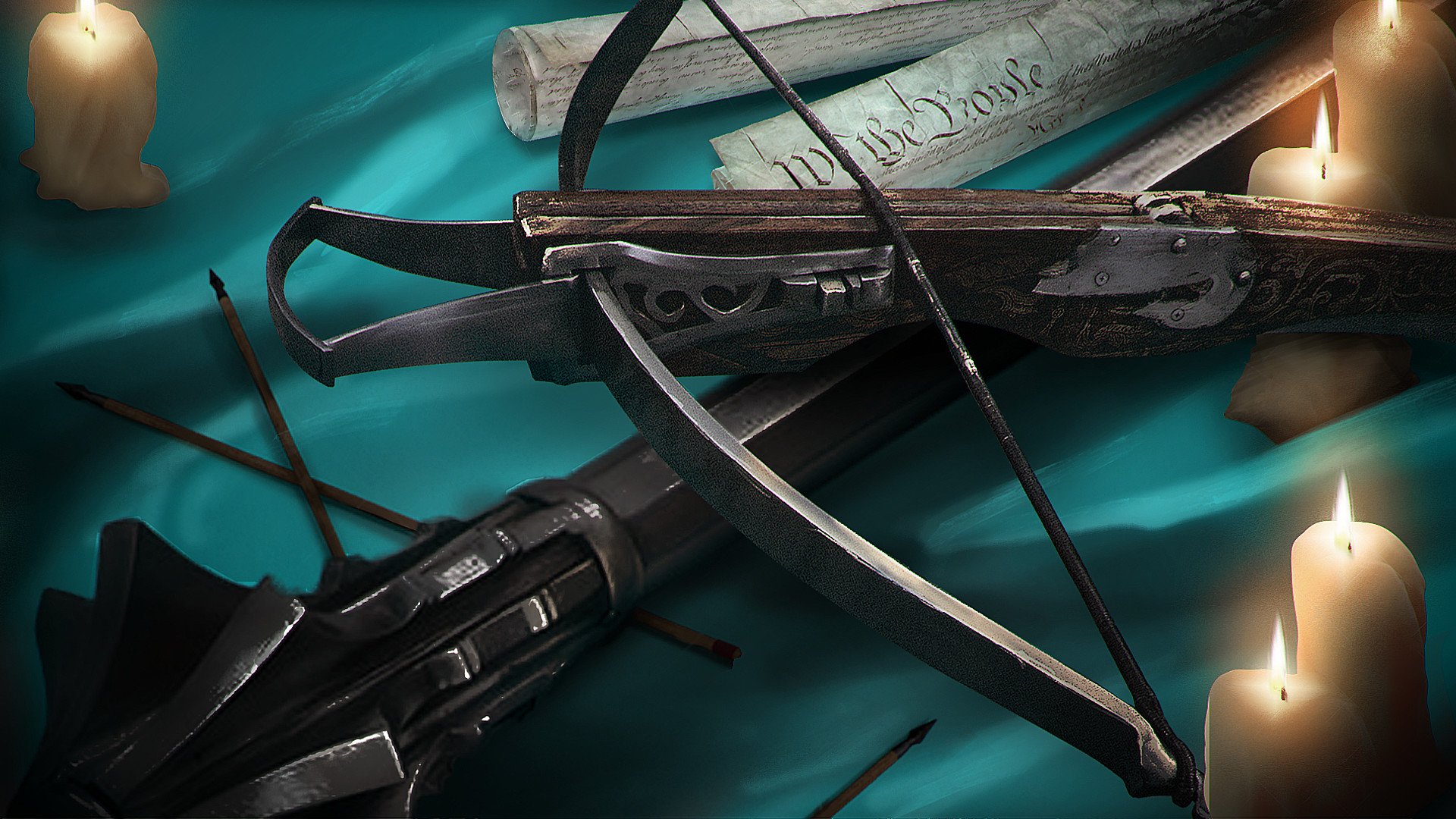 [March Contest] Vote for the Community Magic Weapon!
31 March 2020
Hello there everyone,
The submission period is now over, thank you to all participants out there! We've received more than a hundred magic weapons in total, and trimming that selection down to five finalists was hard... real hard! So don't feel bad if your idea didn't make it to this final round, there were so many great submissions that we simply couldn't include them all.
> Click here to vote for your favorite Magic Weapon Submission <
Before we reveal the winners of the first round, I want to share with you some of the criteria we used to select them:
The weapon had to be balanceable. We can easily lower a +4 attribute bonus to +2, a +2d8 necrotic damage to +1d8, 5 charges of magic missile to 2 charges - but a weapon that can cast Cloudkill, a 5th level spell, can't be balanced unless we removed the spell from it (and that would completely change the idea behind the weapon).
The weapon had to not be overly complex. Some submissions had great flavor, but simply were not possible to implement because they were too complex - such as weapons that would transform into other weapons or even monsters under certain circumstances.
The content had to be SRD. We had a few submissions that included spells that simply don't exist in D&D, or that had content only available in the PHB like Battle Master maneuvers.
The content had to be planned for the game. Some weapons included Warlock Spells (which aren't planned for Solasta at release)
Now without further ado, here the list of the selected weapons for this second round (in no particular order):
Arcane Shieldstaff, by GreyWarden77
Mace of the Midday Sun, by Woolynelson
Manacalon Javelin of Sure Returning, by Mauro.Sartori
Mountain Breaker, by Ithron
Winged Dagger, by Shadow of Olympus
Note that we have already applied a first balance pass, so some of these weapons may differ slightly from the original submission. The weapons' lore may also be reworked later by our writers.
Contest Rules
Voting ends on Monday, March 6th, 11:59pm PST
Anyone with a Forum Account may participate in the voting. Limit of one vote per person.
The winner will have his Magic Weapon implemented in-game and be credited as its Designer in the Credits
All of those who wrote a submission will also receive a Forum Trophy for their participation to the contest
Necessary disclaimer: We reserve the right to alter submissions or work with their author to fit our design and specifications. You can read the full legal document here (roll Investigation DC15).

Can cast Mage Armor once per Long Rest
Can cast Shield thrice per Long Rest
Requires Attunement
Color Scheme: Purple & Gold trim
Creator: GreyWarden77
Shieldstaves are a rare artifact from ages far past. Crafted by an ancient mage during war time, this staff promises to keep its user safe and able to focus on other magical pursuits, leaving defense to the staff

Deals additional Radiant Damage on hit
On a Critical Hit, target is affected by Faerie Fire
Requires Attunement
Color Scheme: White & Gold
Creator: Woolynelson
The handle of this weapon looks as if it were carved from alabaster, with a bright golden striking head.

Grants a Dexterity Bonus when wielded
Returns to the wielder when thrown
Requires Attunement
Color Scheme: Wooden, with silver decorations and a golden head
Creator: Mauro.Sartori
A javelin of magnificent workmanship, perfectly balanced. Decorated in pure silver along its entire pole with a precious weave easily referable to the ancient Manacalon empire. Its golden tip seems to release a faint light in the dark, a sign of the magical power that this artifact contains inside. An ancient artifact created before the cataclysm by the powerful magicians of the Manacalon empire, very little is known of its origins - but in some ancient representations found in a crypt in the Badlands by a group of archaeologists and scholars of the New Empire, the artifact can be recognized as the main architect of crucial victories in historical battles.

Grants a Strength Bonus when wielded
Can cast Thunderwave centered on the wielder once per Long Rest
Requires Attunement
Color Scheme: Silver & Steel
Creator: Ithron
Leather wrapped haft with a beveled head with silver inlays. The maul looks like it should weigh more than it does when initially lifted, but re-gains that apparent weight ten-fold while descending in a strike. Crafted by long dead leader of a clan of the Snow Alliance. Designed to be equally useful for combat, and for breaching the defenses of other clans when they came into conflict.

Can cast Feather Fall on self once per Long Rest
Can cast Misty Step once per Long Rest
Requires Attunement
Color Scheme: Silver with a black handle
Creator: Shadow of Olympus
The grip is of a hard, glossy black material and is in fact crafted from the beak of an enormous raven. At the base of the Winged Dagger, the pommel, is a stylized bird's claw in platinum grasping a mysterious, cloudy, spherical gem that when gazed upon appears to bear moving shapes inside like clouds in the sky. The platinum quillons spread as wings, majestically from the dagger's hilt. The platinum blade is diamond in cross section, and long and tapered, ending in an impossibly sharp tip. The Winged Dagger was crafted in a gentler time to less gentler men. The Dagger was crafted in exchange for services rendered by Yxaethenes Soulbender, a Manacalon magister of minor renown. The Winged Dagger, once created, was employed through many a nefarious exploit by accomplished burglar, "Bad" Omen Starsbrite. Starsbrite actually prefered, and in vain attempted, to promote the more flattering nickname of "The Perfect Crime". Nonetheless "Bad" Omen Starsbrite gained much notoriety and infamy for somehow always being able to gain escape from seemingly impossible odds. He often worked alone, not out of preference, but of the fear of his singular reputation. His tendency of emerging as the sole survivor after a particularly perilous operation went south had the effect of thinning the ranks of his working companions. "Bad" Omen "The Perfect Crime" Starsbrite eventually met his ultimate fate after taking one too many chances and one too many coffers of gold.


> Click here to vote for your favorite Magic Weapon Submission <