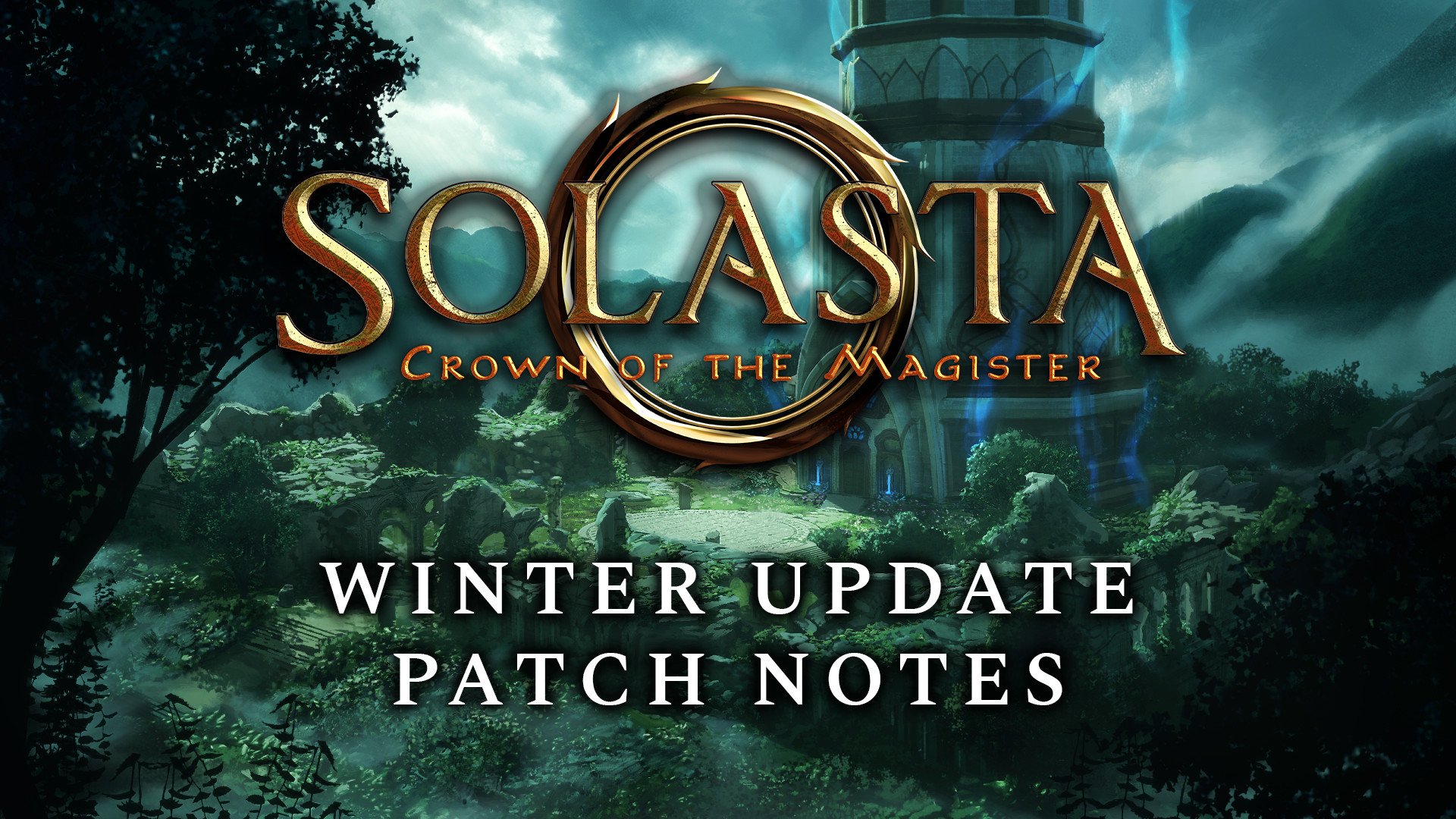 Solasta Winter Update - Patch Notes
14 December 2020
Hey there folks!
Welcome to Solasta's Winter Update! With the addition of the new Monastery Questline, the Early Access should now reach 12h - 14h of total game time. We've also taken action regarding the most popular requests, such as adding more customization options and changing the lighting system which was deemed too punitive (we've reverted the rules back to the 5e tabletop ruleset). Hope you enjoy!
New Content / Feature:
An entire new Questline is unlocked after Mardracht's tea party(which may or may not involve tea). Tactical Adventures does not condone violence against the elderly.

Upon returning to the World Map, a new location should now become available.

Many new magic items have been added to the game, because magic is cool and you know it. And no we won't spoil which ones.
You can now hide during combat! Wooh for sneaky dastardly deeds, chivalry is for dumdums with negative intelligence modifier. That's not me, that's what the Rogue said.

Hiding requires you to break line of sight with all enemies before doing so
Creatures can see in a 180 degree arc in front of them, instantly revealing you if you step into their vision range (no Stealth Check)
Otherwise, you will have to roll a Stealth Check under the following conditions:

You end your turn too close to an enemy (distance depends on many factors, such as your Stealth score and armor type)
You take an action such as attacking or casting a spell.

Note that Hiding in Combat is a very contested rule on Tabletop, so we invite you to give us feedback if you think the current system can be improved.

Because hiding isn't enough, you can now also apply poison to your weapon. Hey, say what you want but a win's a win.
Several new spells have been added to the spell list. You ready? Pass without trace, See invisibility, Animal Friendship, Find traps, Calm emotions and Protection from poison. What do you mean that's lame? Oh sorry Larry, I forgot you only take spells that deal damage because that's all you care about. Well not every spell can be a fireball, Larry.
Two new homebrew cantrips have been added to combat darkness more effectively: Shine, which lights up an enemy like a candle from afar for a solid minute - and Sparkle, which is quite literally "I cast magic missile at the darkness" (okay, difference being you still need to target interactable objects such as wall sconces to light them up).
Many new Hair / Eyes / Skin Colors have been added to the Character Creator
Each Ancestry now has access to new additional faces in the Character Creator, on top of the old ones. NPCs also got a facelift in the process.
Several new monsters have been added to Solasta. You will encounter them in the new locations of the Winter Update, but you may also run into them during Random Encounters.
The Scavenger Faction is now up and running! Simply go to them whenever you drop by Caer Cyflen, and they'll send their best to go loot the areas you cleared (including random encounters). We will further develop the Scavengers in the future, but don't hesitate to ask for their services already and tell us what you think!
Major Changes:
The inventory & loot systems have received a lot of requested upgrades:

You can now double click to loot / equip items
The party will now share their wealth, instead of hoarding each coins individually like little gremlins. Shopping just became much easier.
We added a second quiver so you can easily switch between regular arrows and magical arrows.
You will now receive a warning when equipping a combination of weapons you can't dual wield, such as Rapier + Dagger.

As a reminder, you need two light weapons to be able to dual wield properly (Rapier isn't light).

Looting will now open a small window instead of the entire inventory
Looting bodies (after battle) will now automatically loot a sizeable area around the body. You may still need to loot some bodies separately if one died particularly far from the fight (for instance if it was perched on a tower).
You can now open a shop directly after having talked to the merchant NPC at least once. Simply click on the shop tent instead of the NPC.
The shop interface has been revamped to display more items at once, and base scrolling speed has been increased.

The lighting system has been reverted back to Tabletop rules:

Dim light will no longer give disadvantage on attack rolls, only on perception checks (so you better keep that torch out unless you love running into traps).
This means Darkvision will properly allow you to attack into darkness with no disadvantage, since the character will view darkness as dim light. Note that Darkvision still has a maximum range (most often 60', meaning 12 cells) - so beyond that range good old disadvantage will still be here rubbing its hands with its crappy RNG.
Soraks will now receive the "Children of Darkness" buff while in dim light and darkness which enhances their fighting prowess, as they are creatures of the dark. Fighting Soraks? Get some light out or be prepared for a whole lot of pain.
Note that unlike on tabletop, you will still be able to target creatures that are heavily obscured. Technically speaking you shouldn't be able to click on enemies in the darkness, but we found that it made the game very frustrating as the player could see the monsters even though the character wouldn't be able to see them, so they were unable to interact with them. And that made any non-darkvision ancestries even weaker compared to before - you wouldn't even attack with disadvantage, you would just not attack at all.

The combat console has received several improvements:

You can now hover any attack, damage, saving throw, ability check roll to see the details of the dice roll
You can now hover creature names to see the monster card (with your current level of knowledge of the monster)

The combat UI has also received several improvements:

Using Dash will no longer immediately consume your action, and will instead show you the updated movement range. Moving inside the first area will only consume your movement, while moving outside that range will use your action to dash.
Other actions such as Dodge or Disengage will now ask you for confirmation, as well as reminding you what the action does. No more terrible misclick!

The Food System is now a little less hardcore for parties without Rangers:

The general shop in Caer Cyflen will now offer up to 50 rations instead of 10.
The system will now properly prioritize food you find on the road, so you should consume less rations during your travels overall.
World Map travel also allows you to automatically cast Goodberries / Create Food and Water before camping to avoid consuming your rations.
Tweaks / Improvements
Some NPCs in Caer Cyflen now wear faction tabards. I heard it's a fashion thing, adventurers like you wouldn't get it.
You will now be able to buy the Manacalon Rosary in the general shop in Caer Cyflen.
Exit Areas have been made much more visible. No more wandering around looking at the ground to find the exit!
You will now be able to click directly on the hit dice in the Short Rest panel, and the dice will properly roll on the bottom of the screen.
Long rest fire icons now flicker. I know, I know, it doesn't sound like much but it's super cool, swear on me mum
Added animations to Hanging Cages crashing down (Caer Lem - Goblin Hideout)
The ground should now look a little less monotone outside Bone Keep
Added VFX to some spells that were missing them (such as Magic Weapon)
Made some improvements to the blueprint (M)
Scrolls of the same spell will now stack properly
Added visual feedback above a character when a condition (such as paralysis) is removed.
Added a visible "Enemy Movement" banner during enemy turn, as monsters who were playing without being visible sometimes led players to believe their game was stuck.
Bugfixes / Others
You will now receive a pop-up during Loading Screens if you're running into an infinite loading screen bug. Well hopefully you won't ever run into that issue, but at least you won't be sitting there wondering if it's ever going to finish loading or not.
The "Alt" Key that highlights interactable objects will now properly work in combat as well
The bug which was causing looting to take several seconds instead of being instant should now be fixed
The ladder which was unusable in Tower of Magic is now... well, usable again. Go get that chest, folks.
... And plenty of other bugfixes here and there, too many to detail!
Known Issues
Here are a few bugs that we didn't quite catch in time to get them fixed for this update - and that we'll likely be hammering down in the upcoming hotfixes later this week.
[Blocker] In front of the Abjuration Tower, there is a small puzzle that only activates by night. Attempting to interact with it during the day passed the quest update telling you to come back by night will break the puzzle and block any further progress - meaning you'll need to load a save from before you interacted with the puzzle.
In a certain Bone Keep room, killing the ghost in a single round will make the game take around 10 seconds to end the combat. That's the time it takes for the DM to stop weeping at you killing their monster so fast.
Some skeletons in Dark Castle have been tagged as allies by mistakes. If you can't beat them, join them I guess? Anyway, don't worry the fight will still end once you off all the opponents - no need to try and kill your newfound friendly skellies via Fireball or other AoE spells.
The Ready Cantrip ability will cast Sparkle instead of offensive cantrips if you have Sparkle in your spellbook. Since monsters aren't torches, nothing will happen.
The Minotaur does not like when you use Ready Action. If you attack him it with a ready action when he is charging, he will ask the game for a 10 second time out before resuming his charge.
There are some missing textures on the ground next to the cemetery in one of the new areas.
In a certain prison cell you will find not one, but two barons. While we could try to shift the blame on your alcohol intake, that's just a mistake by the DM.
Broods have learned how to cheat the system and can no longer be targeted by weapons while on walls. However, we have learned to outwit the Broods by telling you that you can still target them by clicking their portrait instead while we fix this loophole of theirs.
If you save during a specific encounter against a single Brood and later load that save, you will see that this particular Brood somehow managed to cast Kage Bunshin no Jutsu and you will be facing five broods instead. You don't know, maybe it was a Hokage in its past life.
[Old Save] It is possible (not 100%) that some saves from older versions will run into a blocker in Bone Keep, where you will be unable to open a certain door because the lever that opens it won't appear on the wall (see screenshot below). If that happens, either load another save and try again - or you will need to start fresh again :(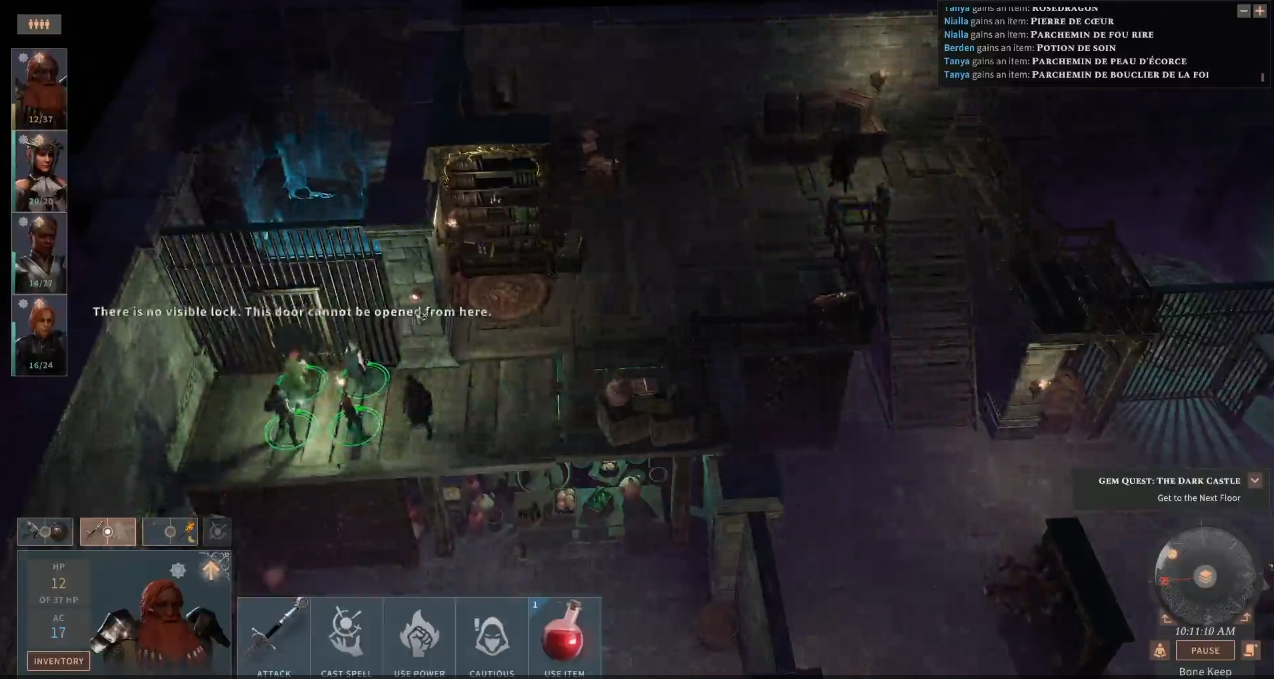 Difficulty and you:
We've seen a few people concerned that the game might be getting too easy due to certain changes. As always, keep in mind that we're mostly doing those changes because we haven't implemented difficulty settings yet - so we need to make sure people who are not expert at tactical RPGs can also enjoy Solasta. Fear not however, as you will find all the challenge you wish for once we implement higher difficulty options when version 1.0 hits the store.
Article by Tactical Myzzrym